Education's purpose is to replace an empty mind with an open one   — Malcolm Forbes
In the world where so much is being done for technology and so limited for the environment, education is not even a part of most conversations.
We at Notes Press believe that by extending the reach of education and knowledge, by making it openly available, so much can be achieved.
And this journey started in 2020 when a young girl thought "wouldn't it be great, to have a website, with simple and easy to understand notes, guides, and study materials for students who cannot go to schools and colleges or the one who needs help doing their assignments and create notes", and Notes Press was born.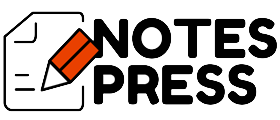 COLLABORATE WITH NOTES PRESS
Together we can help students worldwide, by sharing what we know.
We think if we aim to help a wider audience and expand beyond borders, working alone wouldn't be enough. To achieve this, we need your help. Feel free to contact us, to collaborate with us for any other subject as well. We are open to ideas.
JOIN US ON THIS JOURNEY
We will keep you updated on everything!